If you're looking to book podcast interviews for yourself and not sure how to can find podcasts to pitch yourself to, then you're in the right place.
In this post, I'm walking you through the four easiest techniques you can use to find podcasts that are interviewing guests like you.
I've got an idea that will help you track down podcasts to guest on fast, whether you're just starting to build your network or have already been on top tier podcasts and are looking for more ideas.
Simply scroll through each technique and pick the technique that feels easiest, and start building out your own podcast pitch list.
1. Recruit Your Confidantes
Although it might be very popular to go into Facebook groups to ask for podcast recommendations, this is not a great way to build your podcast pitch list. While you will get recommendations, you're also likely to hear about a lot of podcasts that are not relevant to you. 
But when you ask your confidantes, people you know that understand what you're trying to achieve and are rooting for you to succeed, you'll receive quality podcast recommendations. 
In this case, less really is more! Receiving fewer targeted ideas from people you trust gives you a faster path to actually booking interviews and not spending all your time researching podcasts.
So how do you get those great leads from your confidantes?
Make it clear why you want to be booked onto podcasts!
Don't assume that your business besties know what you're actively working on, and spell it out for them! If you want to promote a book, say so! If you're looking for a specific type of audience or interview, let them know!
Below is an example of what this kind of message should look like when put together: 
Hi [name] — Getting on podcasts is a big priority of mine for the coming year, and I wanted to see if you have any recommendations for me, since you're someone I know gets my vision.

My goal is to appear on podcasts speaking to [audience] to bring them my message of [topic].

Do you know of any podcasts that I should reach out to?



Thanks for your help!
2.  Join Your Comrades and Colleagues
When you see our comrades, colleagues, and even competitors on other podcasts, your gut reaction can be discouraging. 
"Oh gosh, they've already had so-and-so on, why would they want me on as well?"
This is actually a good sign – a strong indication they would be interested in hearing what you have to say as well. Bringing your own fresh perspective to a topic, instead of a carbon copy, will help you secure your spot in these podcasts.
For example, when I first started dabbling in PR for my own clients, almost a decade ago, before Podcast Ally, I came across Laura Roeder. 
These days Laura runs a social media scheduling and marketing automation company called MeetEdgar, but 10 years ago, she was teaching a course called Creating Fame. The course helped people get known for their work online, and become famous within their niche, underpinned by PR and media strategies. 
So naturally, when I saw this, I thought to myself, "Why would somebody need the work that I do as well?" 
But here's the thing → Creating Fame existed with a much broader scope than the work in PR that I was doing, and I realized that I could refine and dig deeper into some of the topics that Laura lightly touched upon. 
In the end, this approach shifted my perspective over time and I began to view her more as a comrade or a colleague, even if we were not necessarily acquainted. In light of this, any podcast that interviewed Laura about Creating Fame is a great target for me! 
To use this technique effectively, brainstorm three to five people who are out there guesting on podcasts and search where they have been featured so far.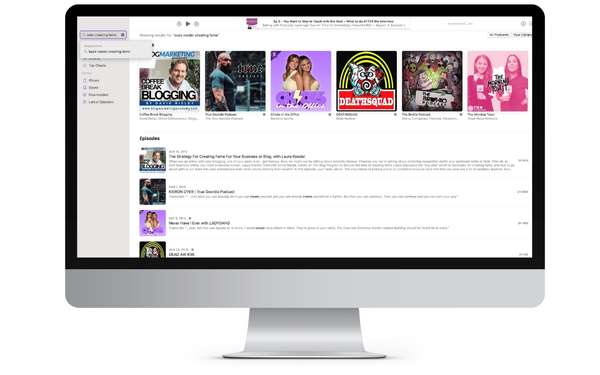 3: Build On Your Clients and Customers
If you have the luxury of working with clients and customers that have experience guesting on podcasts, this can be a great starting point. Jot down a list of clients and customers and do some keyword research using Apple Podcasts. 
And if you are thinking, "Wait a minute, keyword research on Apple Podcasts, how does that work?" 
Well, Apple Podcasts is the best search engine when it comes to looking for podcasts. You can search for names and or even phrases, and Apple Podcasts will give you the most relevant results.
Let's take one of our former clients, Kira Hug, co-founder of The Copywriter Club, as an example. Kira is a highly experienced copywriter who has worked on launches for big online names such as James Wedmore and Jasmine Star. 
The podcasts that feature James and Jasmine are great for Kira, as they are speaking to her target market, and as a result, we set out and searched for podcasts that featured these two in order to build a list for us to pitch Kira.  We ended up booking her on 5 different shows that had previously interviewed one of her clients. 
4: Clarify Your Audience
When you define your message and audience, you can use Apple Podcasts to do keyword research.
Let's use Podcast Ally for example. We work closely with small business owners, entrepreneurs, female entrepreneurs, micro business owners, aspiring authors, and value-based companies. This is how we can define and identify the right target audiences to go after in podcasts.
While we have our own internal database, there are always new podcasts popping up – and fading! So we always use this technique whenever we take on a new client. 
To use Apple Podcasts as a search engine, brainstorm five to 10 different ways your audience would describe themselves. 
These will most likely be synonyms but if you have different branches of your business that deal with a larger variety of clients, you can expect some variance. 
Once you have this list, download and open Apple Podcasts on your computer and search each of these terms. 
Additionally, you can use the same technique to come up with five to 10 different ways to describe your topics or the messaging that you want to bring to the podcasts. 
When it comes to finding podcasts, these four techniques are the fastest and easiest ways for you to find shows that will bring you on. Sure, you could do generalized Google searches, but you'll spend twice as much time wasting through podcasts that don't bring on guests or that have stopped publishing new episodes.
By tapping into your 4 C's, there is nothing stopping you from stepping out into the world as a podcast guest, ready to share your message with right-fit audiences who can't wait to hear from you! 
Now that you are clued up on where to find podcasts, pick one of the techniques above and start building your list!